Top 10 Weird Laws Around the World
Globally, laws range from the weird and wonderful to the downright peculiar. In this blog,  I am going to countdown some of the weirdest laws around the world.
Parliaments famous Salmon Act of 1986 states that it's illegal to hold salmon under suspicious circumstances
Section 32 of the Salmon Act 1986 stipulates that it is an offence to handle salmon under suspicious circumstances.
This section creates an offence in England and Wales for any person who receives or disposes of any salmon in circumstances where they believe or could reasonably believe that the salmon has been illegally fished. The maximum penalty is two years imprisonment.
The context may well make the law less weird, but even so, suspiciously holding salmon is a pretty funny offence to be arrested for.
If you own any chickens in Quitman, Georgia, it is illegal to let them cross the road
Simply put, the law essentially wants owners to have their chickens under control at all times. This makes sense when you imagine the danger of letting farm animals run about, but the specificity of the law about not allowing chickens to cross the road rings true to the joke and makes for a funny read.
Georgia likes to ensure the safety and sacredness of their chicken as in Gainesville Georgia, you have to eat fried chicken with your bare hands. Keep your forks away from them. The law describes chicken as a "culinary delicacy sacred to its municipality." Perhaps this is why chicken deserves a specific transport safety law.
Australia's second most populated state says it illegal to change a light bulb unless you are a licensed electrician
Under Victorian law, changing a light bulb without a valid license to do so was against the law. Taking your light into your own hands brought a fine of 10 Australian dollars.
However, a revision to the 1998 Electricity Safety Act updated this law. A spokeswoman for Energy Safe Victoria said that, "While the Electricity Safety Act makes it illegal to do your own electrical work if you are not licensed, changing a light bulb and removing a plug from a socket were specifically exempted from this requirement under Order in Council G17."
Milan in Italy states that it is a legal requirement to smile at all times except at funerals or hospitals
What's with the long face? In Milan, the law compels you to smile. It is prescribed by a city regulation from Austro-Hungarian times that was never repealed.
Exemptions included funeral goers, hospital workers or those at the bedside of an ill family member. For everybody else there is no excuse for being glum, the alternative being a fine. This has got to be one of the weirdest laws of all.
In Florida, it is illegal to pass wind in a public place after 6pm on Thursdays
There is some debate over this one. It certainly is a forgotten law and has never really been enforced in Florida.
It was probably written in the 1800's and forgotten since. It is not clear why this ever became a law, or a rumoured law in the first place.
It is against the law to have a sleeping donkey in your bathtub after 7 pm
In Arizona, this law was brought into effect due to a public menace case in 1924. A merchant used to allow his donkey to sleep in a bathtub. The town was flooded when a local dam broke and the donkey, was washed a mile down the valley. The donkey survived, but locals spent a lot of time and manpower to save the animal. This law was passed shortly after.
It is against the law not to walk your dog at least three times a day in Turin, Italy
Dog owners in Turin, Italy will be fined up to 500 euros if they don't walk their pets at least three times a day, under a new law from the city's council. Italy considers itself an animal-loving nation and in many cities stray cats and protected by law.
To enforce the law, Turin police would rely largely on the help of tipsters spotting cruel treatment by neighbours. Turin has the most stringent animal protection rules in the country. They even ban fairgrounds from giving away goldfish in bags.
In Scotland, if someone knocks on your door and requires the use of your toilet, you must let them enter
Yes, this means that by law if you need the toilet you can suggest it is illegal for them to deny you the use of their toilet.
However, this law is questionable as how can we suggest people should let just anyone into their home? This law has made many lists of the most absurd laws, but I could not find any context behind this peculiar law.
In Samoa, it is illegal to forget your wife's birthday
You will get more than the silent treatment from your wife if you forget her birthday in Samoa. It is unclear how long your sentence would be, but maybe some time apart for you to think about how to make it up to her wouldn't be too bad.
The French town of Sarpourenx makes it a legal requirement to have bought a burial plot before dying
Some issues were had in this French town with people wantonly dying and then expecting to be buried. The mayor issued an edict forbidding people from dying within the city limits unless they had previously purchased a plot in a local cemetery. People who die anyway will be severely punished. What kind of punishment you give the dead however is as of yet unclear.
Top 10 Most Haunted Places On The Earth
Nothing beats a decent phantom story on Halloween, and our planet is crammed with them: UFO sightings in Transylvania, murders on extravagance voyage ships, and spirits meandering the corridors of British palaces. Regardless of where you're voyaging, you're certain to discover a type of frequented site, just as a phantom visit to oblige it. In any case, regardless of whether you're not an enthusiast of paranormal exercises, the absolute spookiest areas are as yet worth your time, whether for their delightful design, stunning areas, or captivating accounts. Here, the 10 most spooky spots on the planet you'll need to visit any day of the year—not simply on October 31.
MOUNDSVILLE PENITENTIARY, USA.

During its over 100 years inactivity, the Moundsville Penitentiary in West Virginia was one of America's most brutal remedial offices and the last stop for just about 1,000 lawbreakers. The detainees lived in squeezed quarters, which prompted riots. Numerous men were hanged or executed in the hot seat, while others were killed by different detainees. The jail shut in 1995, however as indicated by a few, the tormented spirits are as yet in a correctional facility and the insides of the jail and might be seen or heard on a visit.
TRANS-ALLEGHENY LUNATIC ASYLUM, USA.

When known as the Weston State Hospital, this refuge was home to a great many individuals with dysfunctional behavior, beginning in 1864. Many individuals kicked the bucket here before the office shut in 1994. The spirits that are said to frequent the site today date back to the Civil War time, when the haven's grounds filled in as a troop installation. Paranormal voyages through the office include 2-hour visits to the haven's 4 principal problem areas. The more serious Ghost Hunt is an 8-hour, short-term paranormal experience with experienced phantom chasing guides.
VILLISCA AXE MURDER HOUSE, USA.
On June 10, 1912, the old white frame house at 508 E Second St became a grisly crime scene. The heinous murder of Josiah B. Moore, his wife, their 4 children, and 2 young girls who were overnight guests rocked the small town of Villisca, IA, and the murderer was never identified. Over the years, residents of the home reported visions of a man with an ax, children crying, and unexplained paranormal activity. In 1994, the home was restored to its original condition with no indoor plumbing or electricity. These touches add to the chilling ambiance during a lamplight tour from April through November or an overnight experience available by reservation for groups.
SAMMIE DEAN, USA.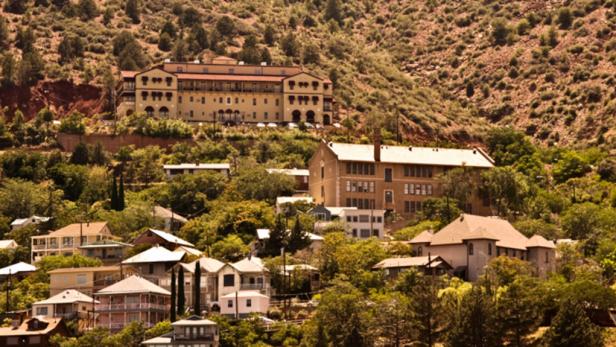 Jerome, AZ, is a previous copper-mining town with a paranormal standing that traces all the way back to the Wild West. The town is currently home to only 400 occupants (down from 15,000 in its prime), yet supposedly there is bounty all the more spooky inhabitants from the times of mining mishaps and gunfights. One notable soul is the functioning young lady Sammie Dean, a prostitute who was choked by a client in the old Crib District. Her wonderful soul wanders the back streets searching for her executioner, who was rarely found.
CUBAN CLUB, USA.

Cuban Club, otherwise called Circulo Cubano de Tampa, can be found in Tampa's Ybor City area. In 1917, this spot was a famous joint for Cuban settlers who delighted in the assembly hall, open-air bandshell, and saloon with a phase and dance floor. Today, the compound, which is ensured by the National Historic Register, has shows and uncommon occasions and is the setting for some phantom anecdotes about spirits playing the piano and riding the lifts.
FORT MIFFLIN, USA.

Built in 1771, Fort Mifflin is the country's just Revolutionary War combat zone that is as yet flawless. There are 14 reestablished structures on the grounds on the Delaware River and purportedly a lot of spirits from an earlier time. Among the phantoms said to frequent the post is a shouting lady whose cries are uproarious to the point that the Philadelphia police have been called to examine, just to track down nobody there. Different characters in the neighborhood phantom stories incorporate an unremarkable man meandering around the fortress, a local escort wearing progressive clothing, and various kids and canines.
MOON RIVER BREWERY, USA.

The Moon River Brewery acquired its adored lagers to Savannah in 1999, however, the structure is one of the most established around, tracing all the way back to 1821. In its unique manifestation, it was the City Hotel, a top-of-the-line lodging with a background marked by savagery during the Civil War. Men were executed in the inn during warmed encounters, including a Yankee who was pounded into the ground by local people in 1860. Some bar supporters today say they've seen bottles strangely fly through the air and have seen visitors being pushed, contacted, and surprisingly slapped by concealed powers. One inhabitant phantom, Toby, is said to lurk around the pool room searching for the following extraordinary bar fight.
THE SULTAN'S PALACE, USA.

The house at 716 Dauphine St is an exemplary French Quarter magnificence with exemplary created iron galleries and an enormous patio. However, during the 1800s, this home was a place of revulsions for the Sultan, an affluent man with a debased way of life, various spouses and kids, and an array of mistresses of ladies and young men held without wanting to. Neighbors grumbled about the strange propensities for this man who inclined celebrating, opium and torment. Be that as it may, the best secret in the house was the Sultan's death, when he was covered alive in the yard after his family and array of mistresses were hacked to pieces in a bloodbath by an obscure culprit. Today, his irate soul is believed to be answerable for the surprising clamors, noisy music and solid incense smells that drift from the home, just as unwanted advances on past female inhabitants who swear the Sultan is still up to his old stunts of grabbing female guests.
Château de Brissac, FRANCE.

Named as the 'Giant of the Loire Valley' this is the most noteworthy palace in France flaunting seven stories, 204 rooms, various representation displays, and a private show house that seats 200 individuals. It was a post worked by the Counts of Anjou in the eleventh Century and King Louis XIII came around in 1620.
The most dynamic is La Dame Verte, (Green Lady), who was evidently the ill-conceived offspring of King Charles VII and was subsequently killed by her better half in the château in the fifteenth century after he found her taking part in an extramarital entanglement. She is regularly found in the pinnacle room of the church, wearing her green dress, with expanding openings were her eyes and nose ought to be. At the point when not frightening visitors by her appearance, she can be heard groaning around the palace.
The château is mainstream in that has exceptional occasions, for example, a Christmas market and tastings of the very much respected wines, created from its own grape plantations. Visitors who are sufficiently daring to remain for the time being appreciate rooms luxuriously enriched with period furniture.
BHANGRA FORT, INDIA.

The remnants of a fortification city worked in the seventeenth century, Bhangarh Fort comprises of post dividers, bazaars, Havelis, imperial castles, and various sanctuaries, with three thousand stories you can investigate. However, don't be tricked by the excellence of these remains as they are positioned as the most spooky fortification in India.
A wizard called Singhia and a princess called Ratnavati rejected his advances. Rumors from far and wide suggest that the captivated oil he trusted would make her affection him transformed into a stone when she discarded it – and it squashed him. Yet, not before he reviled the royal residence, sentencing the occupants to death, with no expectation of resurrection. Another story recommends a neighborhood plain reviled the fortification since its shadow overwhelmed his property. What's more, clearly, on the off chance that anybody endeavors to construct a rooftop for the post, it will fall.
Bhangarh Fort is presently an archeological site, known as the 'Place of Ghosts'. It is feasible to enlist a guide who can show you around the site and give you the subtleties of its spooky past. Make certain to visit in light as the stronghold is shut among dusk and dawn, with local people persuaded that any individual who goes through the night among the remains won't ever be seen again.