Top 10 famous place to visit in Rajasthan
As we know Rajasthan is called the land of kings. It is the largest state in the republic of India covering 10.4% of India. Rajasthan is famous for its Rajasthani look for Rajputans arts and architecture. Here are some places in Rajasthan which make your vacation more enjoyable and memorable.
Jaipur
Jaipur is the largest city of Rajasthan known as a pink city of India. The city was founded in 1727 by Kachwaha Rajput Ruler Sawai Jai Singh 2.It is home to many arts and crafts. The places you visit here are City palace, Amer fort, Nahargarh fort, Hawa Mahal, Jal Mahal, Jantar Mantar, Pink city Bazar, Birla temple, etc. The well-planned architecture and architecture made it one of the most preferred tourist locations. Jaipur is ranked in the top 7 places for visit in India.
Udaipur
Udaipur is term as Venice of East. The city is known for its lake and common moniker. It is famous for its Rajputana Havelis or architecture and lake. It was founded in 1553 by Sisodiya Rajput Ruler Maharana Udai Singh 2. The city is located at the foothills of Aravali mountain. There are many forts, palaces, temples, and market places to visit. There are many places like City Palace, Lake Pichola, Lake Palace, Lake garden palace, Saheliyo ki Bari, Jagdish temple, Moti Magri, Shilpgram, etc.
Jodhpur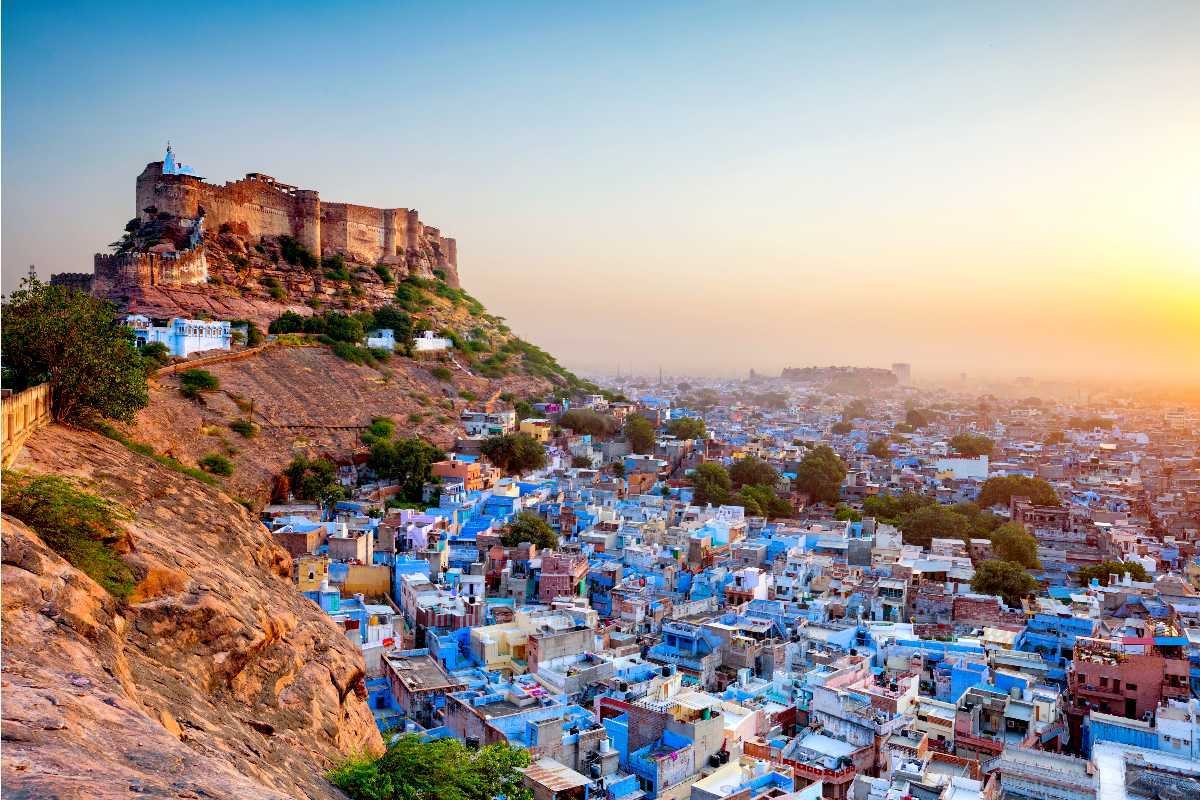 Jodhpur is the second-largest city of Rajasthan. It was founded in 1459 by Rajput ruler Jodha Singh of Marwar. Jodhpur is also called sun city. you can enjoy Sunny weather throughout the year. The city lies at a distance of 250 km from Indo Pakistan border. The hills forts, palace, old walled city, etc attract you to fall in love with this palace. There are many places like Mehrangarh fort, Umaid Bhawan fort, Jaswant Thada, Kailana lake, Clock tower, Chamunda Mata temple, etc.
Jaisalmer
Jaisalmer is called the golden city of India. The city lies in heart of the Thar desert. It was founded by Bharti Rajpur ruler Maharawal Jaisal Singh in 1156 AD. The beautiful architecture and various art and craft made this place best for tourism. The fort has many eateries which offer Italian, French, and local cuisine. You can visit this place during November and December. The places to visit here are Jaisalmer fort, Bada bagh, Patwon ki haveli, Sam Sand Dunes, Gadisar lake, Jain temple, Salim Singh ki haveli, Nathmal ki haveli, etc.
Bikaner
Bikaner is founded in 1488 by Rajput ruler Rao Bika. He was the son of Ruler Rao. Bikaner is famous for its forts and food. Many arts and crafts like intricately carved windowpanes which are also called jharokhas are unique things to see. If you want to taste Rajasthan cuisine then you must visit this place. There are many fairs which attracted the visitor from different cities of India. You can also visit the places like Junagarh fort, Lalgarh palace, National research center on Camel, Ganga Singh Museum, Sadual Singh museum, Jain temple, Shri Laxmikant temple, etc.
Pushkar
Pushkar is located in the Ajmer district of Rajasthan. It is placed near the shores of Pushkar lake. It is the oldest city in India. The city is famous for its ghats and temples. The annual camel fair is the most illustrious attraction of Pushkar. It is a five-day fair which includes music, dance and various events. The major attraction during the camel fair is the camel race. You can also visit the places like Pushkar lake, Bhrama temple, Savitri temple, Apteshwar temple, Varaha temple, Rangji Temple, Man Mahal, etc.
Sawai Madhopur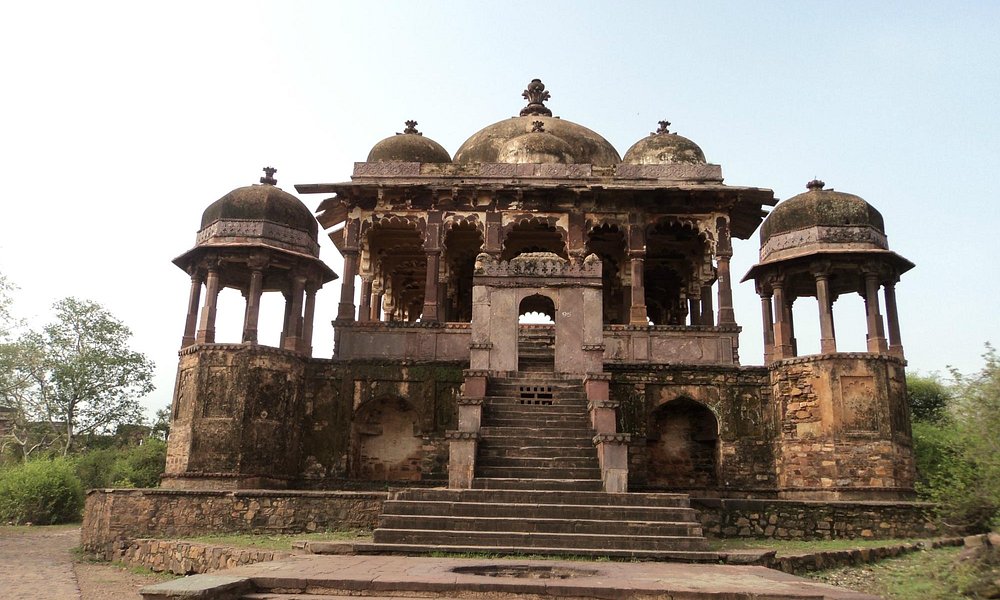 Sawai Madhopur was built by Maharaja Sawai Madho Singh of Kuchwaha Rajput which was founded in 1763. Ranthambore Fort and Ranthambore national park are the two most attractions you will see at this place. Ranthambore Fort is a part of the UNESCO World Heritage site. You can visit Ranthambore national park,chamatkar temple, Clutha Mata temple, Ranthambore fort, Khandar fort, etc.
Chittorgarh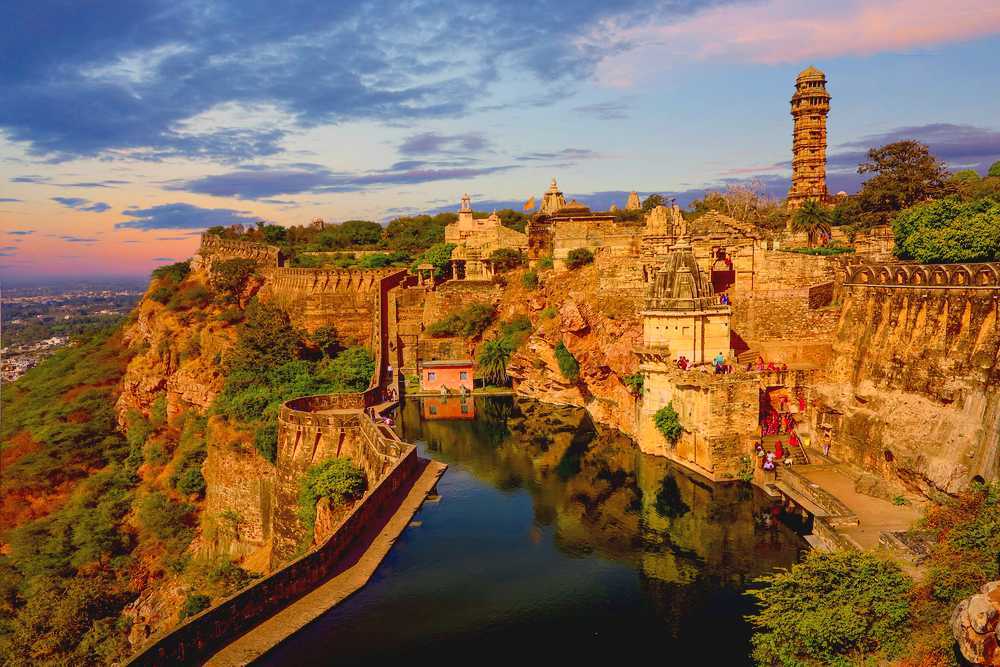 Chittorgarh is also known as a chittor which was founded by the Maurya dynasty. This place is the birthplace of many warriors and many historical faces like Maharana Pratap and Meera Bai. The city is the capital of Mewar and spread in an area of 2.8 sq kilometers at a height of 1075 m above sea level. You can visit Chittorgarh fort, Rana Kumbha Palace, Fateh Prakash Palace, Meera Temple, Rani Padmini Palace, Vijay stamp, Kriti stambh, etc.
Mount Abu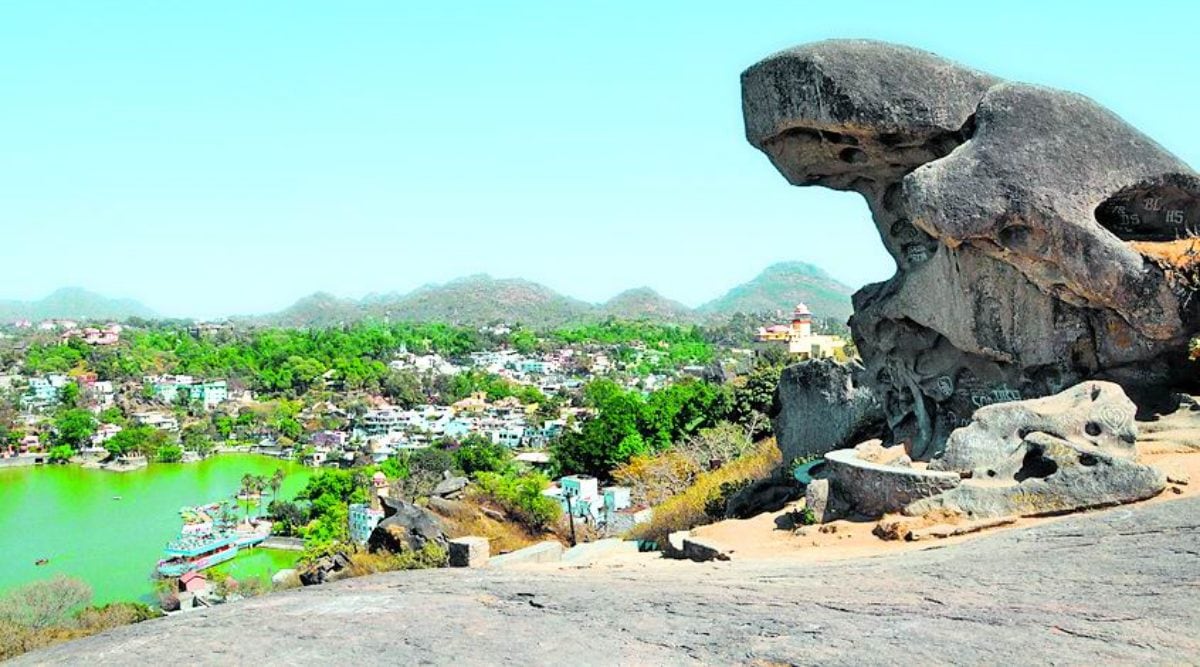 Mount Abu hill station is located in Rajasthan. It is located in the Aravali mountains and a part of the Sirohi district of Rajasthan. Mount Abu is called Arbuda mountain which is mentioned in Mahabharata. This hill station is a site of many temples and ancient sites. You can visit Dilwara Jain temple, Guru shikar, Nakki lake, Wildlife sanctuary, sunset point, Mount Abu Bazar, Trevor's tank, Toad Rock, etc.
Ajmer
The city is surrounded by Arawali ranges. It lies near Pushkar. This is a unique place for both Hindu and Muslims. Ajmer was selected as a heritage site for Heritage city development and Augmentation Yojna scheme of the Government of India in 2015. There are many places to visit like Ajmer Sharif Dargah, Taragarh Fort, Adhai din ka Jhonpra, Soniji ki Nasiyan, Anasgar Lake, etc.
Nagaur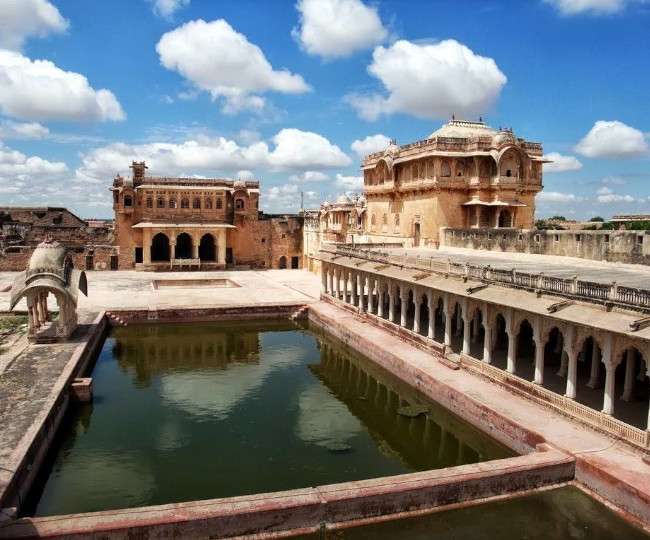 Nagaur is a city which is located between Jodhpur and Bikaner. In 2002, the city won the UNESCO Asian Pacific Heritage Award for Culture heritage Conservative. The fort host world scared spirit festival every year in February. The Nagaur Cartel fair is the second largest fair in India.
10+ Surprising Facts About Colombia
Colombia is a protected, lovely, and vacationer cordial country. An ideal objective for anybody searching for entertainment only and unwinding. We trust the great realities about Colombia assist with captivating you to visit in the not so distant future. Before you travel to Colombia, look at this aide, which makes sense of exhaustively any remaining things you might need to know ahead of time. Themes incorporate food, boarding passes, planning, and that's only the tip of the iceberg.
So here are 10 + Surprising Facts About Colombia!
Colombia Has More Than 4,000 Species Of Orchids
A fascinating reality about Colombia is that it is one of the biggest bloom makers on the planet. 70% of the blossoms are imported to the United States. Yet, out of the amazing 4,000 orchid species, 1,500 are just tracked down in Colombia. It is a botanist's fantasy to explore the 1,500 orchids exceptional to the country.
The orchids come in various shapes, sizes, and varieties. However, the most well known shades of orchid are purple, fuchsia, and pink. An orchid named Cattleya Trianae is the public bloom of Colombia. Just accommodating Colombia's public bloom would be an orchid. The orchid, is named after José Jerónimo Triana, a Colombian naturalist and botanist.
There is a wide assortment of orchids in Colombia due to the warm environment. The orchids flourish in a warm environment since they are not undermined by outrageous intensity or cold. This is on the grounds that Colombia's area is right on the equator. Subsequently, making it the ideal environment for huge number of exceptional orchids to develop. Assuming you visit Colombia, you should visit neighborhood shops that sell local orchids or investigate regular life.
Colombia Is The Most Biodiverse Country On The Planet
One more intriguing reality about Colombia is its interesting area. The area spreads the word about the country as the most biodiverse. A piece of the Amazon tropical jungle, the Andes mountains, and the Sierra Nevada de Santa Marta mountains envelops Colombia. It is available to parts of the Pacific and Caribbean oceans.
What's more, it is named a tropical area in view of its area to the equator. Colombia is the ideal favorable place for all plants and creatures. Colombia has around 60,000 unique species! In the event that you travel to Colombia, you will be ensured to see basically a couple of them. Colombia has the most bird, butterfly, and land and water proficient populaces contrasted with elsewhere on the planet. On the off chance that you are an admirer of nature and scene, Colombia is the ideal objective for you.
Colombia Has 60 National Parks
Colombia's public parks consolidate a wide range of kinds of territory. From timberland, oceanic, precipitous, deserts, and that's only the tip of the iceberg, it has something for each nature darling. One of the greatest public parks is the Unesco Worl Heritage Site of Chiribiquete National Park which is also called, "The Maloca of the Jaguar". It spreads over 4.3 million hectares. This public park covers the Orinoquia, Guyana, Amazonia, and North Andes areas.
Large number of various types of creatures and plants occupy the recreation area. Numerous species are local to Colombia and undermined, like the panther. Chiribiquete National Park is notable for its legacy purposes. The stone dividers in the recreation area territory contain old stone compositions, some of which date back to 20,000 BC. It is said that in excess of 70,000 figures have been reported on the dividers of the 60 stone sanctuaries that are in the recreation area. Beside Chiribiquete National Park, there are numerous other captivating parks to visit, for example, Tayrona National Park, Coral Islands Natural Park, Old Providence McBean Lagoon, Sierra Nevada del Cocuy, and that's just the beginning. Colombia's rich climate permits nature sweethearts to have some constant investigating.
Colombia Has Some Of The Most Popular Tourist Cities
Colombia is notable for its different and traveler amicable urban communities. Cartagena is one of the most well known urban communities in Colombia, situated on the Caribbean coast. The city is a very notable fishing town, containing a rich history with old pilgrim design. Despite the fact that it is a city, its boundary to the water makes a tranquil air. With nearby shops, cafés, and a sea view, it is the ideal spot to unwind.
One more renowned city for the travel industry is Bogota. This city is more business, containing shops, theaters, chapels, schools, from there, the sky is the limit. The region is different in Spanish and English speakers also. Individuals think about Cartagena and Bogota as two of the most secure spots for travelers. The urban communities of Colombia are traveler cordial and wonderful. Make certain to visit a couple of them while you visit Colombia.
Colombia Is Home To The "Fluid Rainbow"
The Caño Cristales waterway, likewise alluded to as the fluid rainbow, is 100km long. It changes its tones by the season. The varieties range anyplace from shades of red, blue, and yellow, to orange, and green. This is simply one more of the many fascinating realities about Colombia. The waterway's rainbow-like tone doesn't happen elsewhere on the planet. It is interesting to Colombia.
A plant known as Macarenia Clavigera is liable for the lively variety evolving waters. With the perfect proportion of daylight, the oceanic plant can create its delightful tones. Yet, in a dry spell or a colder season, the oceanic plant will go into hibernation, leaving the stream vapid. Assuming you intend to visit the Liquid Rainbow, visit during the mid year. The region is alright for vacationers as well!
Must Read :Top 10 Most Beautiful Colombian Women
Colombia Has The Second Most Celebrated Holidays In The World
One more reality about Colombia is that they celebrate 18 public occasions a year. Albeit the majority of the 18 occasions are strictly associated, all Colombians participate in the special festivals. What is one of a kind about the Colombian occasion cycle is that it changes consistently. This is on the grounds that it follows the lunar cycle. In any case, there are exemptions for the lunar cycle, like Christmas, Easter, Colombian Independence Day, and the Immaculate Conception which are praised around the same time every year.
During Colombian occasions the law expects that all Colombian managers give their representatives a vacation day work. In this way, every year Colombian laborers can be ensured something like 18 days off a year. Easter, then again, has various measures. Everybody requires off the week for Easter, thus organizations are shut for seven days. Contingent upon when you travel to Colombia, you might go during one of the 18 unique occasions.
The Colombian National Anthem Plays Twice A Day
As per Colombian regulation, the public hymn or Himno Nacional de la República de Colombia plays two times every day. It plays once at 6 am and again at 6 pm. The law expects that TV broadcasts and radio broadcasts do this consistently. They need to follow a particular way of how the public hymn plays as well.
It should play with the principal tune section and, then it will play in the future. The public song of praise plays in this manner in any remaining public occasions like games or political missions. Since it plays so frequently, every Colombian resident knows how to sing it. Assuming that you travel to Colombia, you will probably learn it and chime in as well. Not many nations will play their public hymn day to day, making it one more fascinating reality about Colombia.
The National Sport Of Colombia Is Tejo
Tejo is a tomfoolery game that is the public game of Colombia. In any case, how would you play Tejo? Indeed, the game is connected with bowling one might say. Individuals will toss tejos or a weighted steel plate towards a metal ring. The ring contains black powder pockets, which will detonate assuming you hit them. Indeed, detonate. The game is clearly and untamed. It is a fan number one by people, particularly those that appreciate drinking a cool lager.
Where there is Tejo, there is brew. The most outstanding aspect of Tejo is that you can play it without help from anyone else or with a gathering of up to six individuals. The focuses are isolated into three. In the event that you hit the metal ring and it detonates you will get 9 focuses, which is the most an individual can get. Assuming you hit the metal ring yet it doesn't detonate that makes up 6 focuses. Assuming that you some way or another figure out how to detonate the explosive pockets yet not land on the metal ring then you will get 3 focuses. Assuming you and your companions or family choose to play in groups, be arranged in light of the fact that it is a practice that the terrible group purchases lagers for the triumphant group. Assuming you have an interest in some cordial and foolish tomfoolery, Tejo is the best game for you.
Colombia Has Two Of The Worlds Largest Festivals
Another great reality is that Colombia has the world's biggest salsa celebration, also called Feria de Cali. Individuals allude to Cali as the salsa capital of the world. It is held from December 25th to December 30th consistently. This five-day celebration contains excellent melodic, dance, and workmanship exhibitions. There are generally various sorts of music, however the most famous, obviously, is the astounding Latin music.
There are many shows like Superconecierto, the most famous melodic occasion. During Superconcierto, there are a few topics of dance both, global and National. Feria de Cali additionally has Salsodromo, the road fair. The festival contains conventional Colombian food, treats, and desserts. They have workmanship, adornments, extravagance vehicles, and that's just the beginning. It is a far-reaching development loaded up with music and tomfoolery.
Colombia has the world's biggest bloom celebration as well. Obviously, being the top bloom maker on the planet, the title is fitting. The bloom celebration happens in Medellin. It comprises of bloom displays, a motorcade, and neighborhood blossom producers who meet up to share what they develop. Individuals who praise the celebration will enrich their homes in gorgeous blossom stylistic layout to match the subject. During the celebration, there are numerous other beneficial occasions like an orchid exhibition, firecrackers, craftsmanship displays, horse fairs, and that's only the tip of the iceberg. The blossom celebration observes Colombia's biodiversity and presentations the most shocking roses.
Colombia Is Number 3 In The World For Coffee
Coffee lovers will want to visit Colombia. The country is famously known for its rich brew. Colombia is a world exporter of coffee, having over 50,000 coffee bean farms/ plantation areas to produce your joy in a cup. The climate in Colombia makes the country one of the best locations in the world to sell and grow its coffee beans.
People describe their beans as very well-balanced and tasty. Colombia coffee grounds are made of 100% Coffea arabica (arabica). Workers put extra care into handpicking the beans, with a method called "cherry-picking". They carefully examine the coffee trees until they think the beans are ready. The ethical sourcing of the coffee beans makes the coffee brew desirable. If you love coffee, you must visit Colombia.
Must Read :Complete List of Miss Universe Winners (1952-2021)